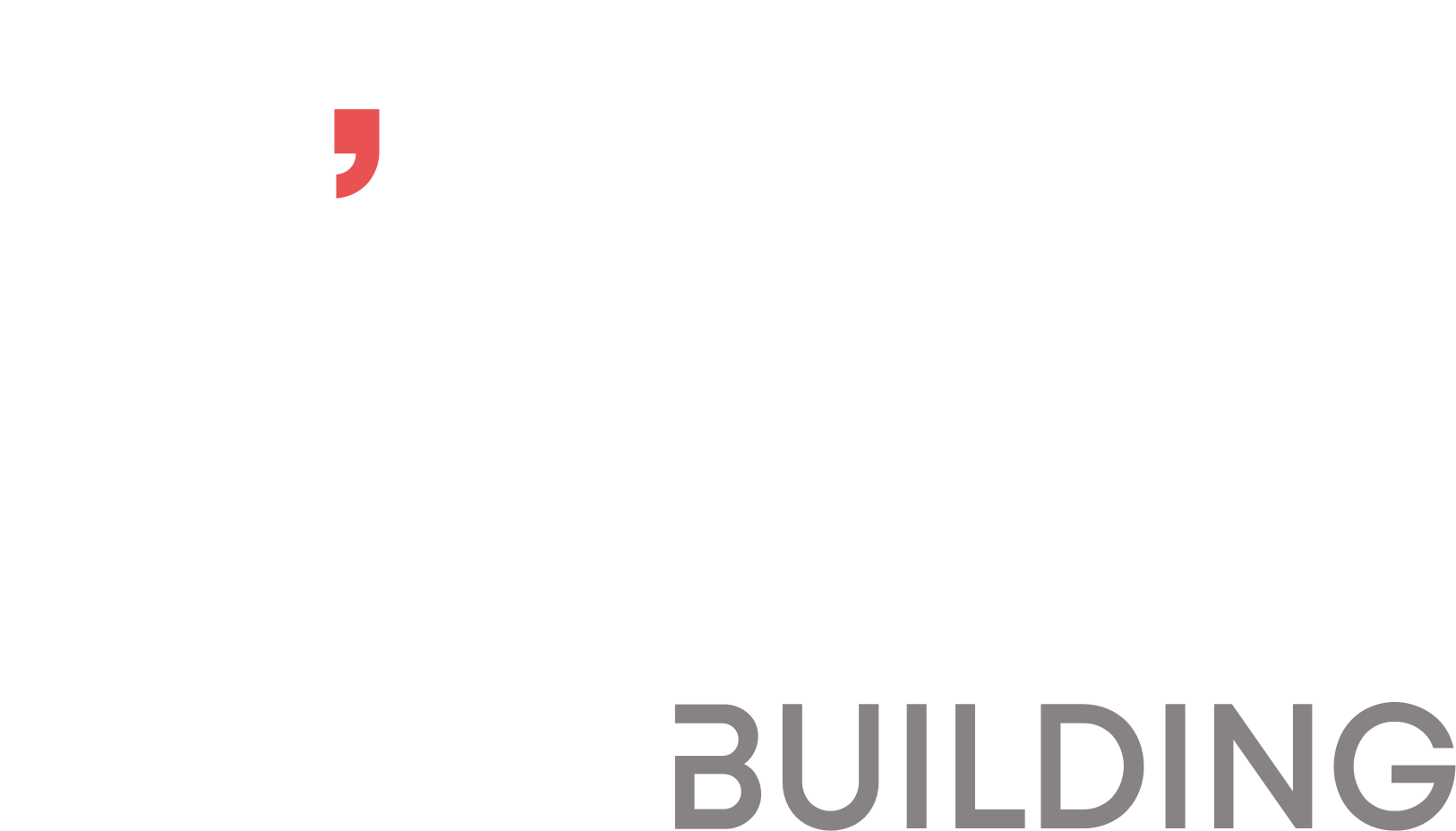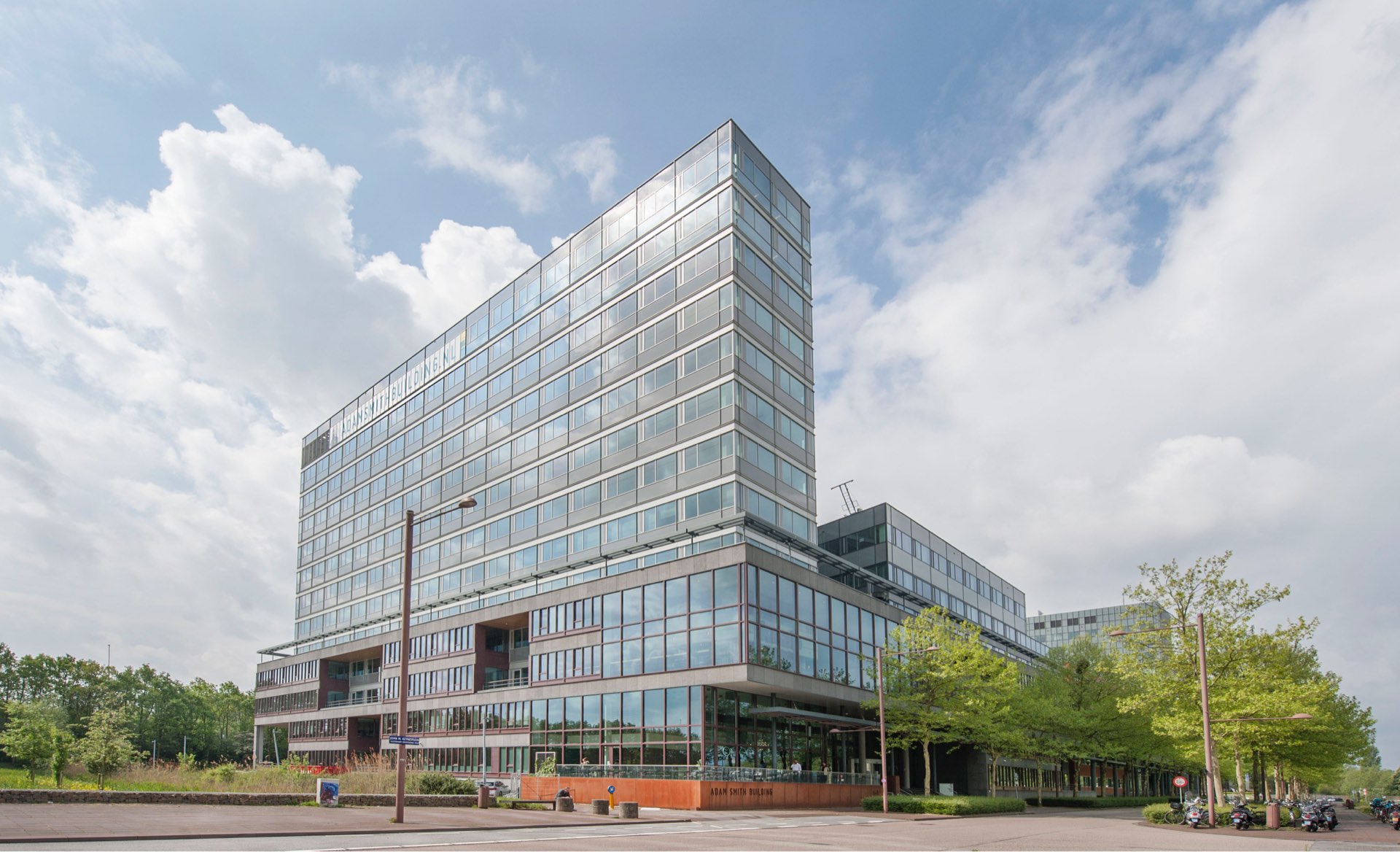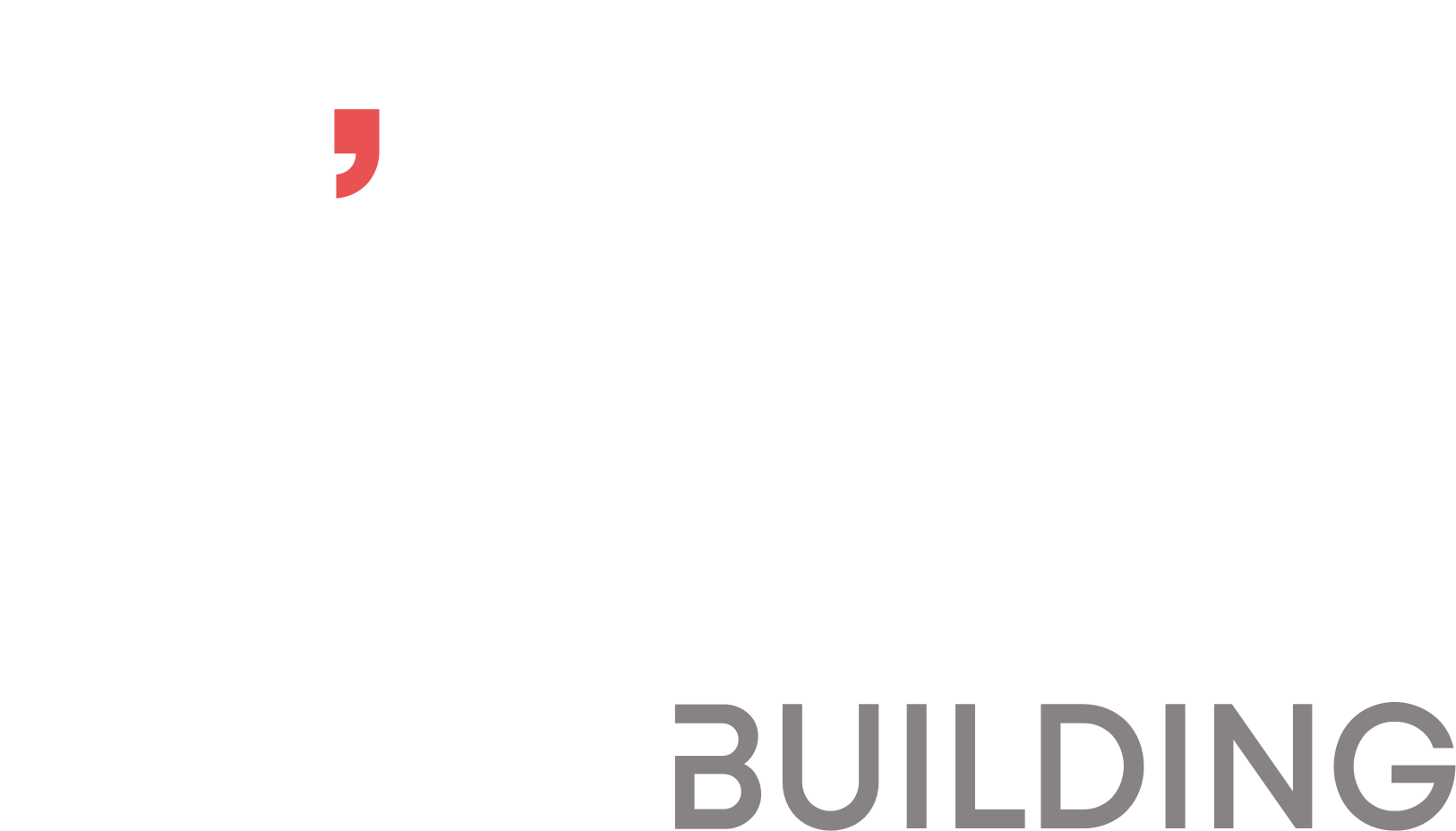 Space, light and energy.
The Adam Smith Building,
a good place for work.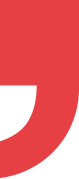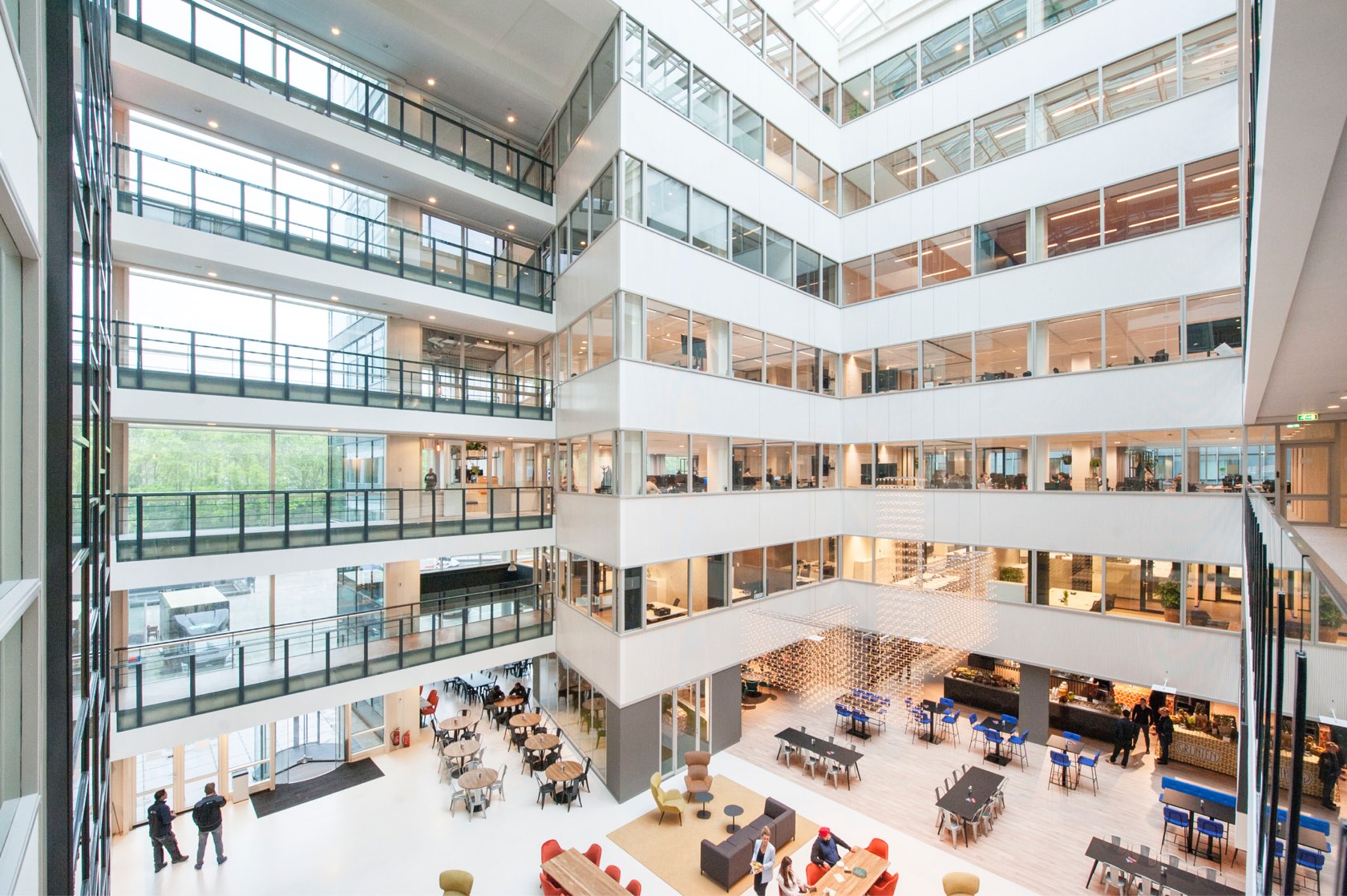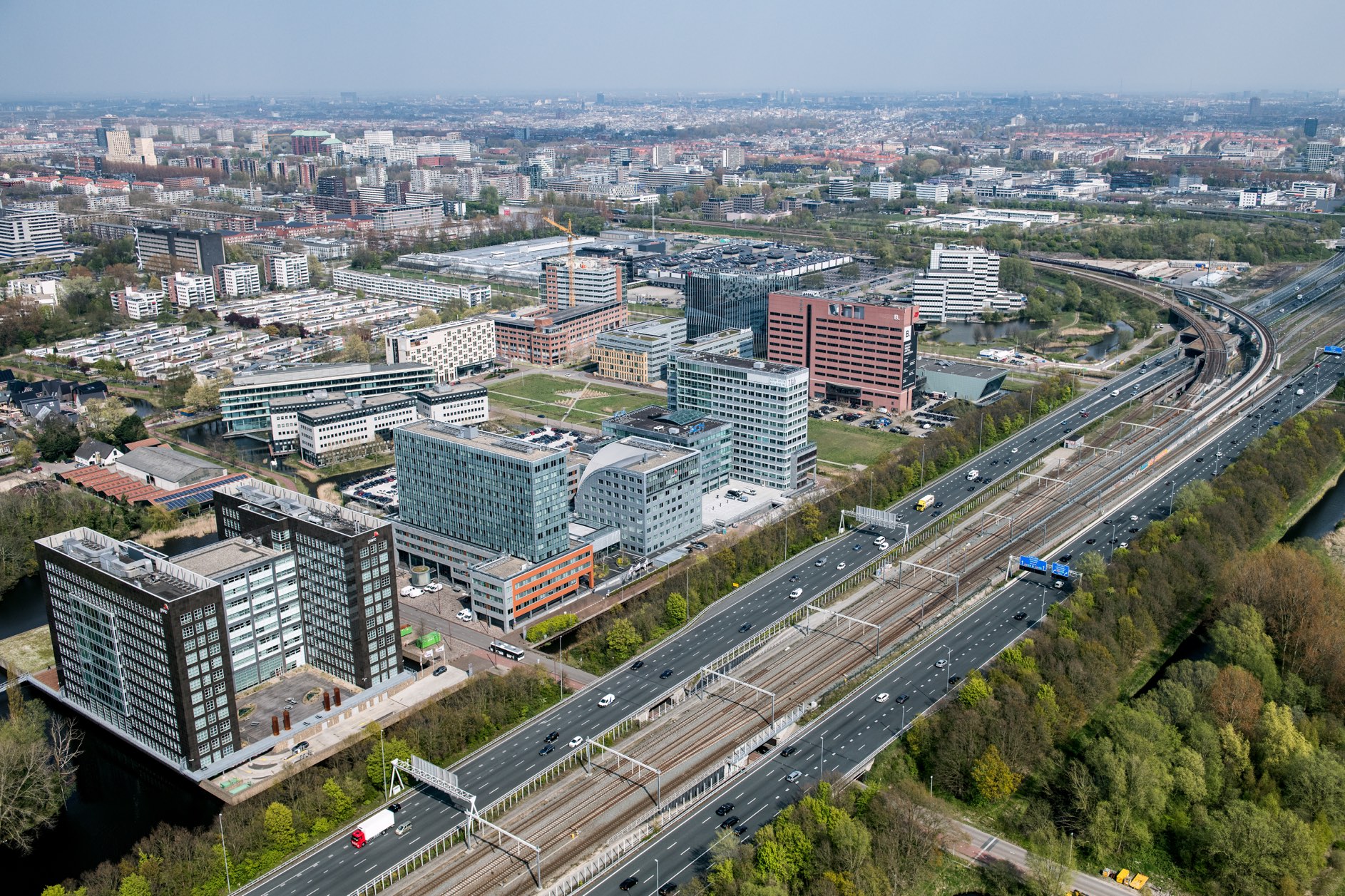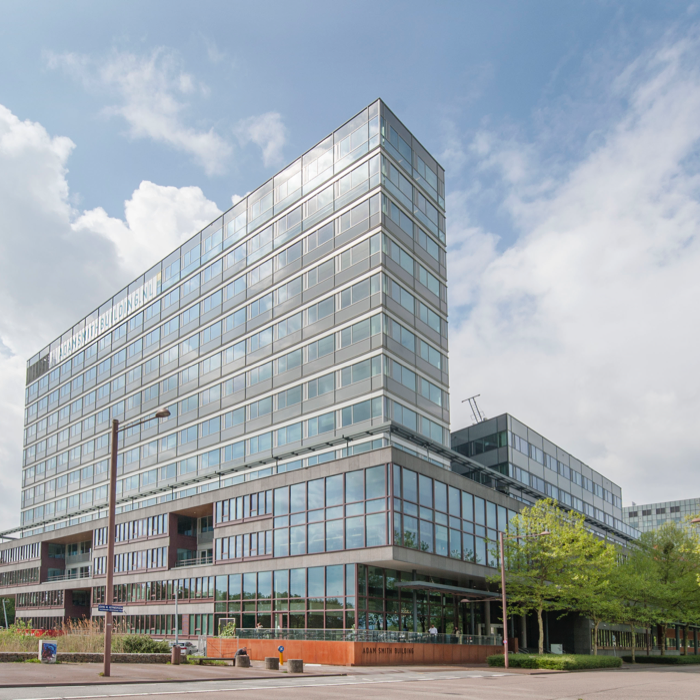 Space, light and energy.
The Adam Smith Building,
a good place for work.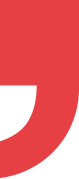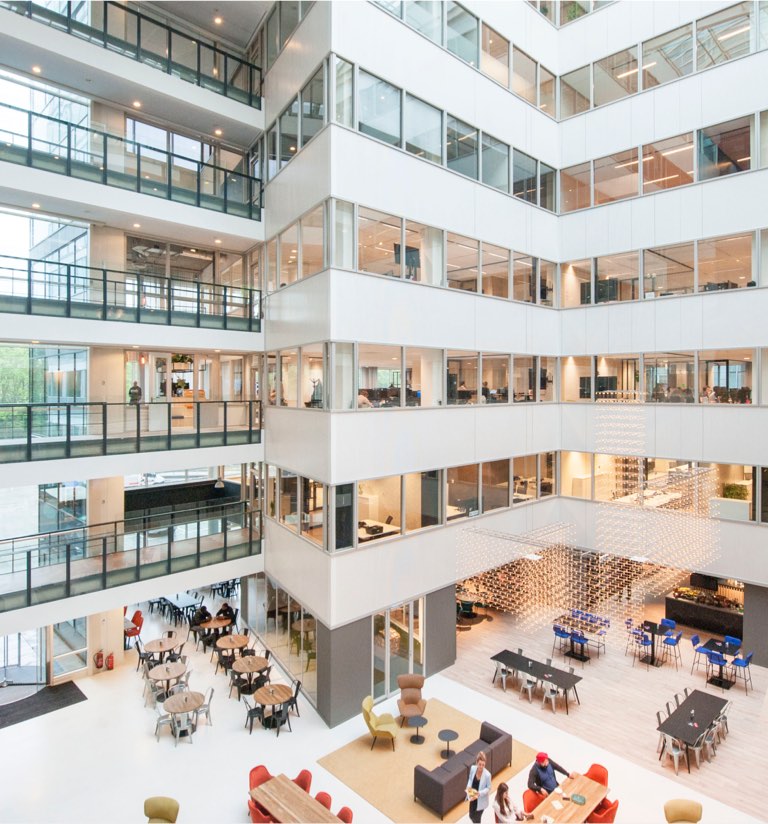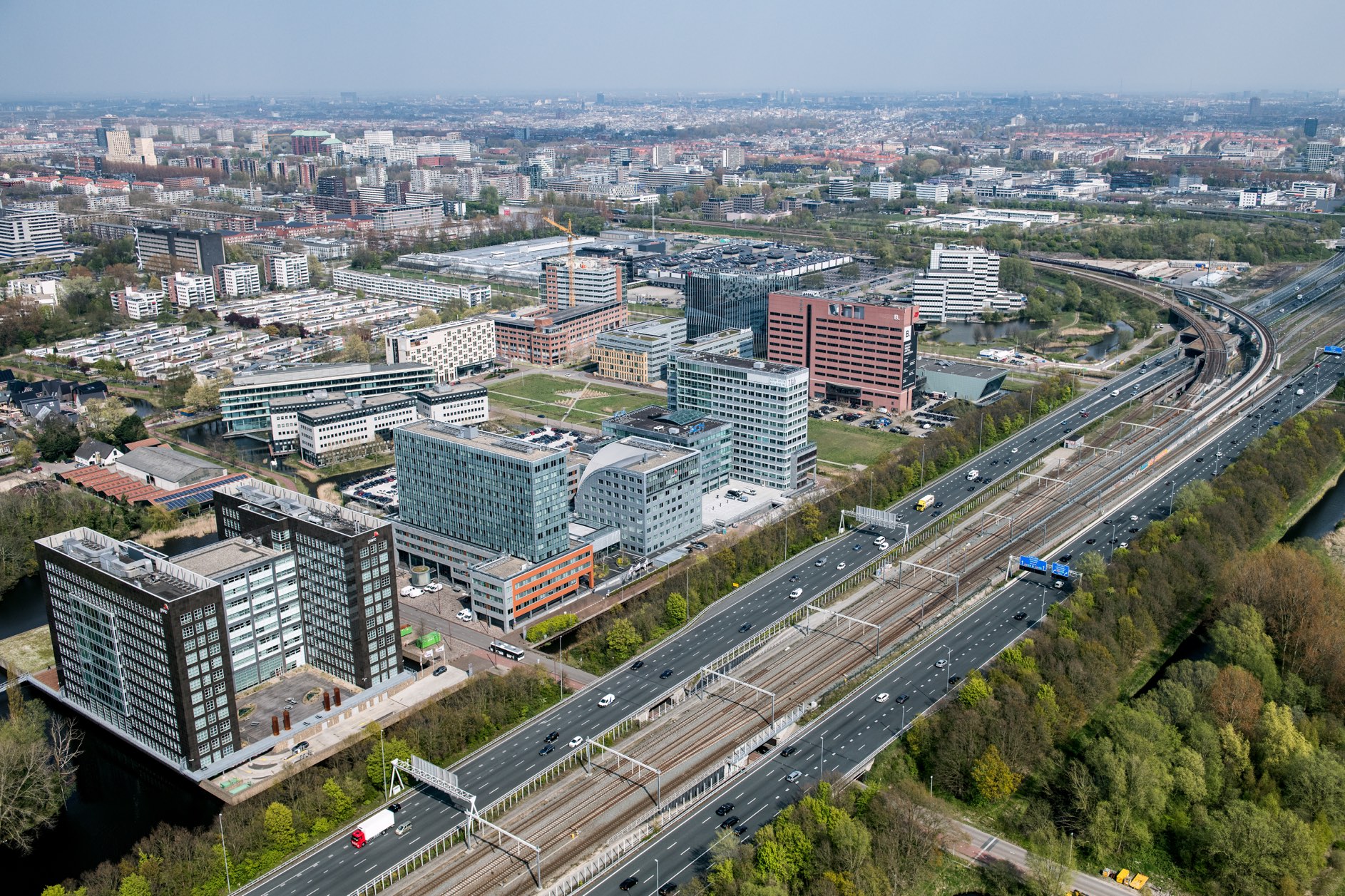 The Adam Smith Building in Riekerpolder, Amsterdam is named after Adam Smith (1723 – 1790), the Scottish economist, philosopher and author. Smith was a pioneer of political economy and a key figure during the Scottish Enlightenment era. He is best known for his book "An Inquiry into the Nature and Causes of the Wealth of Nations" which is considered the first modern work of economics.
Riekerpolder is located in south-west of Amsterdam city center on the A4 motorway and next to the A10 ring road, right between the financial district Amsterdam Zuidas and the Amsterdam Airport Schiphol. Other office buildings in Riekerpolder carry the names of several famous economists such as Frenchman Jean-Baptiste Say (1767 – 1832) and Englishman John Maynard Keynes (1883 – 1946). Riekerpolder business park is home to remarkable companies such as IBM, PwC, Atradius, Brunel, LeasePlan and B.Amsterdam.
The Adam Smith Building, built in 2002 and designed by Aukett Associates Europe, is characterized by a varied façade with large windows, balconies, terraces and glass facades some even covering 2 floors. The building consists of 13 high-rise floors and 7 low-rise floors allowing for unrivalled combined floorplates up to 2,750 m². The large atrium features an expansive skylight filling the 20 meter high open space with natural light which penetrates the building and provides a magnificent transparency throughout.
The Adam Smith building consists of a low-rise and a high-rise buildings. These two building parts are interconnected by a spacious entrance hall, atrium and various walkways. There are in total 13 floors with first class functional and stylish office spaces. The building and the floors have been completely renovated with high-end quality finishing materials. In addition, a license plate recognition system facilitates security enforcement and easy passage to the parking garage underneath the building and adjacent parking deck.
Address
Thomas R. Malthusstraat 1-3, Amsterdam
Total office space
20,786 m²
Atrium
650 m²
Café & restaurant
750 m²
Low-rise
7 floors / 26 meters
High-rise
13 floors / 45 meters
Ceiling height
2.7 meters
Elevators
6
Capacity floors 1-6
2,208 – 2,792 m²
Capacity floors 7-11
1,008 m²
Completion / Renovation
2002 / 2019
Parking spaces
250
Our online magazine
Read all about Adam Smith, facts and figures, location and lots more in out digital magazine.
The Adam Smith building is located in Riekerpolder, Amsterdam. Rieker Business Park is a relatively new office location and has an international allure. The Rieker Business Park is one of the landmarks of Amsterdam, due to its prominent location next to the A4 motorway, wedged between Amsterdam and Schiphol and a stone's throw from the Amsterdam Financial District. Every day 215,000 cars are passing by and make the Adam Smith building a highly recognized landmark for people driving in or out of Amsterdam.
There are also several large international organizations such as Atradius, Pricewaterhouse Coopers, Monsterboard, Brunel and IBM located in the area as well as the luxurious four-star design hotel Artemis.
The Adam Smith Building
Thomas R. Malthusstraat 1-3
1066 JR Amsterdam
+31 20 388 0064
GVB bus line 68 (The Rieker Circle Line) & 267 (Rieker Airport Transfer Line):
The location is easy accessible by car and bike due to the proximity of the highway and the Amsterdam city centre. The accessibility is also strengthen by the Rieker Circle Line which connects the metro station Henk Sneevlietweg, Amsterdam to several main stops in the area. This bus service is operated by the GVB authority under bus line 68 and runs every 8 minutes from Monday to Friday.
By car
A4 motorway: 1 km
A10 motorway: 1.7 km
Amsterdam Airport: 9 km
Amsterdam Zuidas: 6 km
Amsterdam City Centre (Leidse Plein): 6.5 km
The rental of Adam Smith is a collegial collaboration between CBRE,  JLL and 1530.
They are happy to help if you have questions or need more information.